Sinnergy, LLC is an organization within the Welcome to Hell universe. It is implied to be one of a number of companies within Hell and under Mephistopheles' jurisdiction.[1]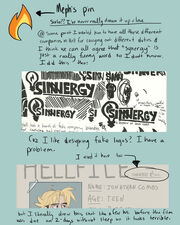 In concept, Sinnergy provides the power for Hell's activities through the combination of "the concept of sin" and
Hellfire
.
[2]
When asked for a possible slogan, Wester posed several through welcometohellfilm: "You sin, we win!", "You commit, we benefit!", "Your remorse is our resource!", and "Your decision to off yourself is basically paying our gas bill so."[3]
Posts for later development of page
Edit
References
Edit