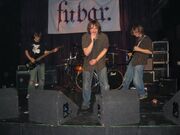 Sock: "What are you listening to?"
Jonathan: "Uh, Valhalla Soundbox."
Sock: "Never heard of them."
Jonathan: "Seriously? [sighs] You're unbelievable."
— Welcome to Hell, 6:57
Valhalla Soundbox is a band mentioned in Erica Wester's Welcome to Hell universe. In the 2013 short film, Jonathan Combs claims to be playing their music on his music device when Sock Sowachowski asks what he is listening to.[1] Wester has equated their fame to that of the American rock band Fall Out Boy,[2] possibly explaining why Jonathan is shocked that Sock is unfamiliar with them.
It is named after the highschool band of Michael Nanna, who was the film's sound technician.[3] When voicing the scene, Wester first asked Jonathan's voice actor Doug Hudson to use the name of his former high school band. Hudson refused, fearing it would be presented as a "shitty teen band"[4] and throughout the remaining recording session used the names of various real bands, such as Matchbox 20, before Nanna suggested "Valhalla Soundbox".
Fans[5] dug up what looks like the real "Valhallas Soundbox". Their Myspace page places them in Creve Coeur, Missouri, the area both Wester and Nanna are from. [6][7]
References
Edit