Welcome to Hell is an animated web series by Erica Wester. It chronicles the demon Sock Sowachowski's misadventures while attempting to haunt the high school age human Jonathan Combs to suicide. A continuation of the first installment is in production.
Sock Sowachowski, "an unfortunately friendly demon", finds that "his new job, haunting and attempting to drive an apathetic highschooler to suicide, isn't as easy as he'd hoped it would be."[1]
Major characters
Edit
Installments
Edit
Welcome to Hell (2013)Edit
Main article: Welcome to Hell (short film)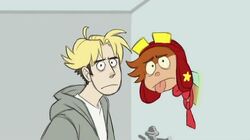 The original
Welcome to Hell
animated short film was created as Wester's senior thesis at Kansas City Art Institute (KCAI). It won an award of excellence for animation from Best Shorts Competition.
[2]
The film was fully funded through a
Kickstarter
campaign.
[3]
It first premiered at the Kansas City Art Institute's 9th annual "Frame by Frame" festival in May of 2013
[4]
[5]
and was later released online June 2nd, 2013.
[6]
The film presents a revised version of the events of the 2010 web comic and goes on to detail Sock's first attempts at disturbing Jonathan, who doesn't respond like he'd hoped and is mostly annoyed by Sock's presence.
High-definition release (2014)
Edit
For screening during the Dragon Con Independent Film Festival of 2014, Wester was required to produce a high-definition copy of Welcome to Hell.[7] Aside from the quality increase, the HD release includes a few re-animated shots along with slight camera angle adjustments and timing changes.[8][9]
W2H2 (TBD)
Edit
Main article: W2H2
W2H2 will be an animated continuation of the original Welcome to Hell short film. It will focus more on Jonathan, who hadn't much introduction in the first film. A release date has not yet been determined.[10]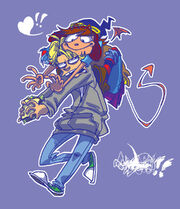 "
I like dark comedies, I like stories that are slightly self-aware, I like character-driven interactions. And I like that unsettling mixture of spooky and cute!!
"

—Erica Wester, via welcometohellfilm[11]
Wester has always been drawn to dark comedy and character-driven stories, and with Welcome to Hell she set out to make one of her own.[11] She is an avid fan of the American animated cartoons South Park, The Simpsons and Futurama, and grew up watching Disney animated movies and Japanese anime like Yu-Gi-Oh!, so some aspects of Welcome to Hell are influenced by or pay homage to them.[12][13]
She also enjoys "
Faustian
deal-with-the-devil type stories", such as the
Tony Award
-winning
Broadway
musical
Pippin
and comedy horror rock musical
Little Shop of Horrors
.
[14]
The character Mephistopheles in particular was heavily influenced by the Lead Player from a performance of
Pippin
she saw at her high school.
[15]
He was even originally to perform a musical number in the first
Welcome to Hell
animated short film.
[16]
Early concepts for Welcome to Hell first appeared on Wester's social media accounts in 2007.[11] The characters Mephistopheles, Sock, and Jonathan emerged before any coherent plot had formed. Each of them went through many redesigns as Wester gained art and story-telling expirience. Wester often posted about these characters on the social art website DeviantArt, where she revealed the first attempt at formalizing their story with the 2010 Welcome to Hell webcomic.
Webcomic (2010-2011)
Edit
Main article: Welcome to Hell (webcomic)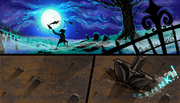 Welcome to Hell
was first a webcomic hosted on the social art website DeviantArt. It received two "Daily Deviation" awards before it was dropped in May of 2011 after the eleventh page.
[17]
In the comic, Sock discovers he's killed his parents, commits suicide, and arrives in Hell, where he meets Mephistopheles, who offers him a job. The story was eventually reworked into the 2013 Welcome to Hell animated short film.
Erica is currently trying to raise money in order to continue the project, but regardless of whether you donate or not, she'll still be making it. However, if you do donate, there's a chance of getting special "first-looks".[citation needed]
External links
Edit
Posts for later development of page
Edit
References
Edit